Company Background
Anchor Pest Control was founded in 1976 by the father and son team of Ed and Lance Davis. Today, the business is locally-owned and operated by Lance Davis. Based on our foundation of honesty and integrity, we have grown many times over.
Our technicians are highly trained, professional, and the best in the business. Together we have over 100 years of experience that we bring to our customers. Anchor Pest Control utilizes only the latest in technology focusing on pest prevention with methods that are effective yet environmentally friendly to people, pets, and our earth. We are bonded, licensed, and insured.
Our business operating hours are 7:00 a.m. to 4:00 p.m. Monday through Friday. For our customers convenience, we will schedule appointments before or after operating hours at no additional charge. Our main office is located in Pensacola; however, we fully service customers from Mobile, Alabama, to Ft. Walton Beach, Florida.
---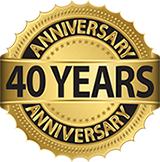 Our Mission
Our mission is to operate at a standard of excellence that elevates the level of our profession and provides total peace of mind for our clients.
Our Environmentally-Friendly Approach
Anchor Pest Control uses an IPM approach to pest control based on scientific research that focuses on the long-term prevention of pests and the damage caused by them while minimizing the risk to your family, pets, and property.